It's been a very busy week at work – and, while I was glad to do a few swaps to freshen up my Simplify7 wardrobe, it was almost more trouble than it was worth.  It seems I have slipped quite happily into what might almost be a uniform.
For the record, I swapped the two dresses for two different dresses and decided that I could forego the long-sleeved T shirt for a more formal jacket.  While I don't have a work uniform, there is certainly an unspoken dress code – and going out of the office tends to call for slightly more formal attire!
Of course, as it's September, there's lots of talk about uniform.  From Facebook pages full of back to school (or first day ever at school) pictures, to news articles about the cost of school uniforms, or the controversial actions of certain headteachers in sending pupils home …it's an annual preoccupation.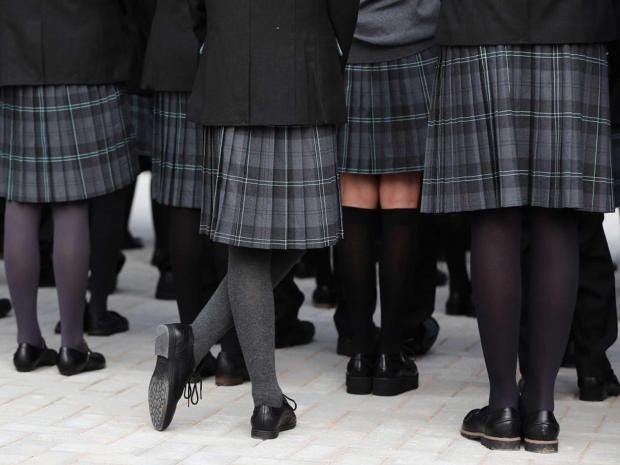 Of course, when I was at school, I hated wearing a uniform.  Well, I hated it in the way that you were supposed to hate it.  It was about conforming, wearing what someone else has decided you should wear, limiting your choice.  The fact that the girls' uniform at my secondary school was brown and yellow from year 9-11 certainly did not help.  Thise colours were NOT in fashion in the early 80s!
Of course, if I was representing the school in a sporting or musical event, the uniform suddenly became a badge of honour. And I know that it is this positive, motivational aspect of wearing a uniform is what has persuaded so many secondary schools to promote an increasingly strict uniform policy which is deliberately distinctive (rather than a generic grey/black/navy that parents can access everywhere at whatever price they wish to pay).  It's supposed to give pupils a sense of purpose and identity, a pride in their school and an investment in their education.  I have to say that I think the majority look extremely smart – at least at the time of day I tend to see them: first thing in the morning.
Interestingly, there's an entirely different approach across the pond.  School uniforms are the exception, rather than the rule.  In fact, while I was there a few weeks ago, I saw one advert (I think it was for Target) promoting their 'Back to School' selection.  I forget the slogans, but the message was essentially that the range would help develop children's individual sense of style and creativity, while not costing their parents too much.  Of course, what they end up with (as we almost all do) may not be identical to everyone else, but it will essentially be a uniform – with different groups keen to identify who belongs by what they wear.
Unfortunately, not having the right clothes (especially when you are a child) might well leave you vulnerable to bullying or exclusion.  Sadly, it's not only other children who might be guilty of allowing that to happen.  If some media reports are to be believed, some school leaders appear to forget that children very often have no control over what happens at home.  If the child is inappropriately dressed for school, it may not be their fault – in fact, the younger the child, the less likely they had any say in the matter.
When I first heard about 'Poverty Proofing the School Day' I didn't really get it.  I didn't see the point.  But I suppose I had never really stopped to think that there was an alternative – life is full of inequalities.  That's just the way it is.  But there is actually an awful lot a school can do to try to overcome the disadvantages faced by a lot of children. Schools in the UK receive a Pupil Premium – specific funding to meet the additional needs of less financially advantaged pupils. Making sure they have a school uniform is, of course, just one of the ways they could choose to spend that money.  But it certainly seems to be a very important way: meeting basic needs, making sure that a child feels they belong, that they are not subject to discrimination purely because they don't have the right kit.
When I was in India earlier this year, I was so impressed with the children in their immaculate school uniforms – many of whom clearly had long journeys to and from school and many of whom lived in pretty primitive housing.

Of course, in India and many other developing countries, education is not always free – and the resources to attend school (pencils, paper, shoes, uniform) are not routinely provided.  Children are simply not allowed to attend if they don't have what they need.  Can you imagine?  It's a huge investment for the whole family – so perhaps it's not so surprising that they take such pride in belonging.  In fact, from what I have seen of India, 'belonging' is a huge part of the culture (not always a positive thing, of course) and what you wear says a great deal about you.
Thinking and praying about all this has led me to consider what I can do.  Simplify 7 is not just about me going without for a short time, but maybe making a little difference for others.  It's been quite startling  to research and find just how many charities are looking for funds to provide uniforms and other equipment, just so that children can attend school.  If you're interested, there are a couple of links below – and there are plenty of others.  It's humbling to think that something so small could make a significant difference to a child's life.